Live Flight Arrivals from Liverpool John Lennon Airport
The live flight arrivals board provides you with up to date information on aircraft arriving at Liverpool Airport. Hundreds of flights per week by many major airlines arrive from destinations all over Europe.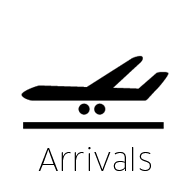 From time to time flights can be delayed and the arrivals page is designed to keep you up to date. An up to date flight time is important for those waiting for a loved one or business associate at the airport.  Not knowing whan a plane will land can often be a frustrating with paying for unwanted car parking or hanging around the arrivals hall.  With this handy page you can sit in the comfort of your car or home and check the up to date times.
All to often planes can be late so we aim to provide you with the most up to date data possible.  If you are unsure about the times we provide then we recommend that you contact the airline or Liverpool John Lennon Airport direct.