Liverpool John Lennon Airport Live Flight Departures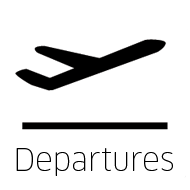 Hundreds of flights depart Liverpool Aiport every week flying to a range of destinations across Europe. The rise in populartity of budget airlines such as Easy Jet and Ryanair has meant an increase in flight departures.
This page will keep you up to date with live flight departures at all times of the day and night. The flight informtion we provide can only be used as a guide. If you are unsure we suggest you contact the airport direct or the airline you are travelling with.
It is important that you arrive early for any flight depatures as checking in and clearing security can take a while.  Ensuring you have ample time to check in will mean a less stressfull trip via Liverpool Airport and give you time to sample the delights of the departure lounge.
The main terminal building and departure lounge has a range of facilities including eateries and duty free shops for your enjoyment.  Facilities for children and business are also available.